Podcast: Play in new window | Download
Subscribe: Apple Podcasts | Google Podcasts | Spotify | Stitcher | Email | TuneIn | RSS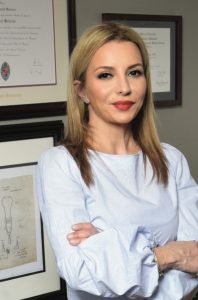 In this episode Ron talked to Dr. Torie Sepah. Torie is the Medical Director of Psychiatry & Behavioral Health at Imperial Health Holdings Medical Group and Healthplan, Physician & Co-Owner at Pasadena Neuropsychiatry Center, and Assistant Clinical Professor at the University of Southern California. Here she discusses a wide variety of topics around physician burnout and wellness.
Torie was born in Iran and immigrated to to the US at the age of seven, in the aftermath of the Iranian Revolution. She grew up in the SF Bay area, primarily in the city of South San Francisco.  For undergraduate university, she headed southward to UCLA, majoring in Poli. Sci., graduating Magna Cum Laude.  She worked for several years in publishing, including as the Assistant Editor of Ms. Magazine in NYC during which she wrote the "Health", sparking her interest in science, health and ultimately medicine. She went on to complete a two year post-baccalaureate, pre-medical program and was accepted at Tulane School of Medicine in New Orleans, LA.
Dr. Sepah and her husband, Ron Shatzmiller, a neurologist and co-partner of PNC, met at Tulane and married  as second and third-year medical students, respectively. She received her Doctor of Medicine in 2006, completed her  Internship year in Family Medicine at Kaiser-Los Angeles Health Center, and Psychiatry residency at USC + LAC in 2013. She served as Chief Resident in 2012  and is a Diplomate ("Board Certifed) of the American Board of Psychiatry & Neurology in General Psychiatry.
​Dr. Sepah spent five years working in correctional healthcare, beginning at LA County's Twin Tower's Correctional Facility followed by a year at an ICE Detention facility, and most recently at the California Department of Corrections in Corona (California Institution for Women), where she served at Chief Psychiatrist through January 2018.
​She continues to teach residents as an Assistant Clinical Professor at USC Keck School of Medicine, Department of Psychiatry.  Management of systems and improvement of healthcare models–in particular in the area of access, has been an area a particular area of interest. Continuing to perform the duties of a Medical Director for Psychiatry at Imperial Health Holdings Medical Group & Health Plan, allows for involvement in health care management.
​Dr. Sepah continues to write, mostly articles about the practice of medicine, patient advocacy and improving access to care.
​She has conducted research and continues to in the area of physician burnout syndrome. Dr. Shatzmiller and Dr. Sepah co-founded Physician to Physician: Healing the Practice of Medicine in 2017, a closed online virtual peer-to-peer burnout prevention forum for physicians, now with 1800 members.