Podcast: Play in new window | Download
Subscribe: Apple Podcasts | Google Podcasts | Spotify | Stitcher | Email | TuneIn | RSS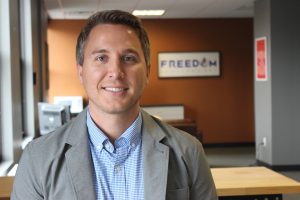 In this episode Ron talks to Chris Habig, Co-Founder and CEO of Freedom Healthworks. Here they discuss the Freedom Healthcare model and how they help providers start their dream practice. Chris does a deep dive into how their practices focus on the doctor patient relationship and enable doctors to practice the art of medicine in a way that gives them the fulfillment they want out of their careers.
Christopher Habig has been active across a wide range of functions and industries during his career. Possessing an entrepreneurial mindset and a focus on problem-solving, Chris has developed his personal style of leadership to drive forward company visions, missions, and strategies. He is skilled at bringing concepts to life and into the market.
Educated in Indianapolis at Butler University, he earned a BS in finance as well as completion of pre-med course work. He went on to run companies in retail, publishing, and small business consulting before becoming a partner within a real estate investment and property management firm. While working in real estate, Chris earned his MBA in entrepreneurship from Indiana University's Kelley School of Business.
He Co-Founded one of the largest single-family residential property management companies in the United States, Home River Group. Upon exiting to private equity, Chris turned his focus to his real passion, improving the healthcare industry in the United States. At Freedom Healthworks, Chris ensures progress in key performance areas while adhering to the company's core values. To help educate and spread the message of Freedom Healthworks, Chris hosts the company podcast, Healthcare Americana. This podcast serves as a way to discuss important issues with stakeholders across the country.