Podcast: Play in new window | Download
Subscribe: Apple Podcasts | Google Podcasts | Spotify | Stitcher | Email | TuneIn | RSS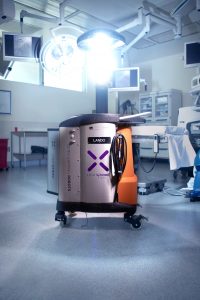 In this episode Ron chats with Morris Miller, CEO of XENEX. Xenex is a world leader in automated room disinfection. Through the use of Xenon technology and innovative hospital disinfection protocols, the company has helped hospitals achieve significant infection reduction results. Here they discuss the benefits of automated disinfection, how it can combat antibiotic resistant or rare diseases, reduce hospital contracted infection rates, improve outcomes, and more.
As CEO, Morris is responsible for the company's overall business strategy and oversight of day-to-day operations.
Originally from San Antonio, TX, Morris is a graduate of the Dedman School of Law at Southern Methodist University, The University of Texas at Austin, and Phillips Exeter Academy. He is the founder of Sequel and Cutstone Ventures, which invests in/acts as an advisor to numerous start-ups such as Inventables, Adometry, and Golfballs.com. He started Curtis Hill Publishing, the first company to publish Texas case law on CD-ROM, and he was also the co-founder and President/CEO of Rackspace (NYSE: RAX). Morris is a member of APIC, BioMed SA, and ACG Central Texas.