Podcast: Play in new window | Download
Subscribe: Apple Podcasts | Google Podcasts | Spotify | Stitcher | Email | TuneIn | RSS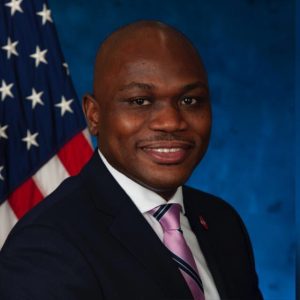 In this episode Ron chats with Michael Akinyele, Former and Founding Chief Innovation Officer for the U.S. Department of Veterans Affairs. Here they discuss Michael's time at the VA and how he brought innovation to the system and some of the issues the VA faces.  He also talks about the Mission Act, Veteran Suicide, different healthcare models, the future of care and more.
Mr. Michael Akinyele, MBA, SES, is the former, founding Chief Innovation Officer of the U.S. Department of Veterans Affairs (VA), the largest federal civilian agency with a ~$250Bn budget and ~400K employees. He was appointed to the Senior Executive Service (SES) in 2019, and was responsible for leading, transforming and scaling enterprise innovation at the Department.
His efforts were primarily focused on implementing Section 152 of the MISSION Act of 2018 which authorized the creation of a Center for Innovation for Care and Payment at the VA. He was the Principal Lead of the VA Innovation Center (VIC) and served in that capacity from March 2018 to September 2020.
Mr. Akinyele is the Founder and Managing Principal of The Maximizer Group, an independent advisory firm primarily advising corporations, investors and startup companies. He is a health care futurist, collaborative leader, product and growth expert focused on inventing the future of healthcare delivery and payments. Prior to his work at the VA, his most recent fulltime role was serving as the Director of Venture Development — Health Care at a private foundation with ~$2Bn in assets and ~$125M in annual disbursements.
Prior to his role in philanthropy, he led management consulting teams focused on developing and implementing solutions to strategic and operational challenges facing multinational corporations. In the U.S. health care industry, he has advised health systems, physician groups, academic medical centers, health plans, pharmaceutical companies, pharmacy benefit managers, and a Medicaid agency. He is a member of the board of the Lymphoma Research Foundation (LRF), the largest foundation focused on funding research aimed at finding a cure and serving those touched by the disease.
Mr. Akinyele started his career managing physician practices in the Washington, D.C. metro area. He earned his Master's in Business Administration from Stanford Graduate School of Business and graduated magna cum laude with a bachelor's degree in Economics from Howard University.