Podcast: Play in new window | Download
Subscribe: Apple Podcasts | Google Podcasts | Spotify | Stitcher | Email | TuneIn | RSS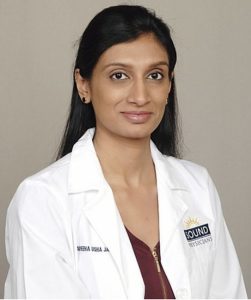 In this episode, Ron chats with Praveena Jaidev, a Hospitalist at SwedishAmerican and Member of Physicians for American Healthcare Access, a group dedicated to increasing healthcare access in underserved communities. They advocate for legislative solutions to protect Immigrant Physicians. Here she discusses the difficulties foreign born doctors face while trying to work in America and how they are often more willing to work in rural or underserved communities. She also talks about the importance of The Healthcare Workforce Resilience Act, which would help foreign born doctors and nurses get their green cards, helping with severe physician and nursing shortages. Praveena shares her own experiences, her career, her hopes for the future, and more.
Praveena Jaidev, MD is a Hospitalist at SwedishAmerican, A Division of UW Health. She is employed with Sound Physicians under the Conrad 30 Waiver Program and is one of ~127,000 Immigrant Physicians who account for nearly a quarter of all the country's licensed Physicians. She was born and raised in India where she attended medical school. She is Board Certified by the American Board of Internal Medicine.
Praveena completed her Internal Medicine Residency at UPMC Pinnacle on a J-1 visa. Currently, Resident Physicians from other countries working in the U.S. on J-1 visa waivers are required to return to their home country after their residency has ended for two years before they can apply for another visa or green card. The Conrad 30 Program allows these Physicians to remain in the U.S. without having to return home if they agree to practice in an underserved area for three years. Many communities, including rural and low-income urban districts, have problems meeting their patient care needs and depend on the Physicians in this program to provide healthcare services. Rockford, IL, is a Health Professional Shortage Area.
One-sixth of our nation's healthcare work force is foreign-born. International Medical Graduates (IMGs) play a vital role in caring for some of the most vulnerable populations in the U.S. Many IMGs like Praveena practice in the U.S. on non-immigrant work visas (H-1B). They are more likely to practice in rural and underserved areas, providing needed care to communities that lack it, thanks in large part to policies like Conrad 30 Program.
A June 2020 Association of American Medical Colleges study projects a shortfall of up to 139,000 Physicians by 2033. PAHA is actively backing a bipartisan, bicameral measure, the Healthcare Workforce Resilience Act (S.3599 / H.R. 6788). The legislation would allow United States Citizenship and Immigration Services to "recapture" up to 40,000 green cards previously authorized by Congress that have not currently been used. The bill would respond to severe Physician & Nursing shortages by reserving 15,000 green cards for foreign-born Physicians and 25,000 green cards for foreign-born Nurses.
Physicians referred to in this legislation are American-trained healthcare workers, but our strict visa requirements often do not afford us the flexibility to serve changing needs amid the pandemic. For example, we are not allowed to take shifts at hospitals other than the ones that have specifically sponsored our visas or volunteer in hot spots like NYC (March/April), CA/TX/AZ (July/August), etc.
Foreign nurses, on the other hand, often are approved to come to America on employment-based green cards. But even after their applications are approved, many get stuck in their home countries due to U.S. processing delays and backlogs.
The Act ensures foreign-born Physicians and Nurses have protections and flexibility to respond to COVID-19 and other healthcare issues. It strengthens the workforce and ensures access to quality healthcare. Till date, 40 Senators and 75 House Representatives have sponsored the Healthcare Workforce Resilience Act.