Podcast: Play in new window | Download
Subscribe: Apple Podcasts | Google Podcasts | Spotify | Stitcher | Email | TuneIn | RSS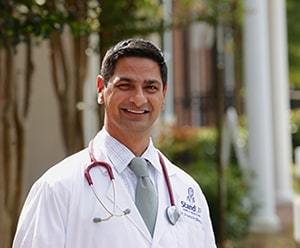 In this episode, Ron brings Dr. Anand Mehta back on the show. Since his last time on the show, Anand has gone on to start a new direct primary care clinic called Stand Up Family Medicine. Here, he dives into what inspired him to start is own DPC clinic and how it feels to be independent vs working for a larger corporation. He talks about his biggest takeaways from his time at Walmart Health and why he feels the direct primary care model is truly the model of the future. Anand also discusses how the name for his new clinic was inspired by his hobby of being a stand up comedian and his love of humor.
Dr. Anand Mehta is dedicated family physician who is board certified by the American Board of Family Medicine. He was born and raised in Buffalo, NY where he attended SUNY Buffalo. He later graduated Medical School from Kasturba Medical College, India. His residency was completed at Hunterdon Medical Center in Flemington, NJ. Dr. Mehta then worked for the hospital group before moving to Georgia in 2014.
Since the move to GA, Dr. Mehta worked as a solo family physician for WellStar Health System for five years in Roswell, GA. His most recent position was as a Medical Director of Walmart Health in Dallas, GA. Dr Mehta and his team were able to make the very first Walmart Health in the nation a growing success. During this time, he has created a reputation for himself as a caring and compassionate provider.
Dr. Mehta takes the time to listen to the needs of his patients. He is an extrovert known to make people laugh, is empathetic, kind and welcoming, with extensive medical knowledge. His character is spoken highly by patients, both in New Jersey and in Georgia. He has received remarkable patient satisfaction scores, coupled with providing exceptional care to his patients. He is known to his former coworkers and employees as a great team leader, always lending kind words, a smile and strives to provide his patient's ultimate care.
Dr. Mehta is a doting husband and busy father to three young children. When he is not busy with family life, he has been seen around Atlanta doing stand-up comedy, playing basketball, or watching the Buffalo Bills. He is extremely excited to start his own practice, continue building strong relationships with his patients, and bringing back traditional medicine like it used to be through Stand Up Family Medicine.