Podcast: Play in new window | Download
Subscribe: Apple Podcasts | Google Podcasts | Spotify | Stitcher | Email | TuneIn | RSS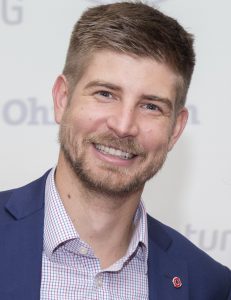 In this episode Ron chats with Tim Raderstorf, Chief Innovation Officer at The Ohio State University College of Nursing and Chief Operating Officer at NursesEverywhere. Here, they have a lively discussion around the role of nurses in healthcare. Tim talks about how much innovation and out of the box thinking comes from nurses, even though they are often underappreciated in their role on the front lines of medicine. He dives into ways to empower nurses by allowing them to perform at the top of their abilities. Tim also shares his thoughts on innovation in the healthcare space and how the focus should shift more towards preventative care instead of sick care.
Dr. Tim Raderstorf is the Chief Innovation Officer at The Ohio State University College of Nursing, The Head of Academic Entrepreneurship at the Erdős Institute and the Chief Operations Officer for NursesEverywhere. From TED talks to textbooks, Tim uses every platform he can find to empower those at the frontlines to change healthcare.
As the first nurse to hold the Chief Innovation Officer title in academia, he takes pride in educating the world on the role of the nurse as an innovator. He is the founder of the Innovation Studio, a makerspace that democratizes innovation, providing every interprofessional team that pitches their innovation with the funding, tools, and mentorship needed to turn ideas into actions. In addition to this work, Tim is an Assistant Professor of Clinical Practice in the Masters of Healthcare Innovation program at Ohio State.
Throughout his career, Tim has founded multiple businesses and has been the first employee for a profitable healthcare startup. His new textbook co-authored with Bern Melnyk, Evidence-Based Leadership, Innovation and Entrepreneurship in Nursing and Healthcare: A Practical Guide for Success, was a #1 new release upon its debut in December 2019.  Some of Tim's recognitions include the Early Career Innovator of the Year and Distinguished Recent Alumni at the Ohio State University, the Innovation Studio being named Non-Profit of the year by Columbus Business First in 2019, and he was most recently inducted into the 2020 Class of 40 under 40 by Columbus Business First.