Podcast: Play in new window | Download
Subscribe: Apple Podcasts | Google Podcasts | Spotify | Stitcher | Email | TuneIn | RSS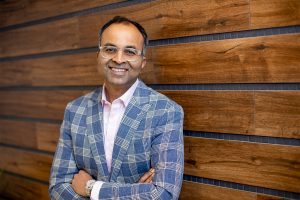 In this episode Ron chats with Dr. Gaurov Dayal, President and COO of Paladina/Everside Health. Here he discusses how healthcare is changing and how the fee for service model is so damaging to the American healthcare system. He believes that better healthcare outcomes come from regular and effective primary care. He stresses on the importance primary care groups being incentivized for keeping people out of the hospital. He also talks about how direct primary care is the primary care model of the future and how removing bad benefits managers from the equation is a big part of cutting employer healthcare costs.
Gaurov Dayal, MD is passionate about value-based care and transforming the US health care system. He serves as the President and COO of Everside Health, which was created from the merger of Paladina Health, Activate Healthcare and Healthstat in 2020 Everside is the nation's second largest direct primary care provider focused on improving the health care of employees, retirees, and their dependents with nearly 400 clinics in 32 states.
Prior to his current role, Gaurov served as President of New Markets and Chief Growth Officer for ChenMed, one of the nation's leading value-based care primary care groups focused on underserved seniors.  In this role he led ChenMed's national expansion and new market operations.
Gaurov has over two decades of experience in population health, physician group, health plan and hospital operations. Other relevant experience includes serving as Senior Vice President at Lumeris, where he created and implemented operational solutions for large health care systems and provider groups transitioning to value-based care delivery.  Earlier, at SSM Health Care, a large multi-state Integrated Delivery system, Gaurov served as the Chief Medical Officer, Interim CEO for SSM Wisconsin Hospitals and President of Health Care Delivery, Finance, and Integration. At SSM, he led the transformation from traditional volume-based provider to a value-based system, including the successful acquisition and integration of Dean Clinic and Dean Health plan, the largest HMO in Southern Wisconsin.
Gaurov earned a BA from Johns Hopkins University, MD from Northwestern University and completed residency training in pediatrics at Washington University in St. Louis.