Podcast: Play in new window | Download
Subscribe: Apple Podcasts | Google Podcasts | Spotify | Stitcher | Email | TuneIn | RSS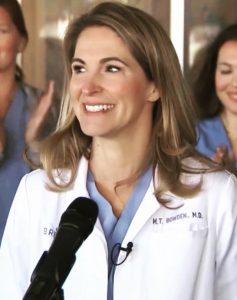 In this episode Ron chats with Mary Talley Bowden, Owner of BreatheMD. Here, they do a deep dive into how Mary stood up to the healthcare establishment and the Bigs to treat COVID-19 patients how she felt they should be treated and how she asked all the right questions when it came to treatments, vaccines, and censorship. She also discusses how the pandemic has shed light on many of the issues in the American healthcare system and how independent and direct care leads to better outcomes.
Dr. Bowden completed her residency at Stanford University and is board-certified in both Otolaryngology and Sleep Medicine. In 2003, she moved to Houston and worked with Drs. Kyle McCutcheon and Alasdair Gilchrist at Memorial Northwest Otolaryngology. She specializes in sinus, sleep and allergy disorders and treats both children and adults.
As a mother of four boys, Dr. Bowden has spent many years being on the other side of the doctor-patient relationship. Her frustrations with the traditional medical system inspired her to open BreatheMD in 2019, with the goal to simplify and improve patients' office visit experiences. To optimize efficiency, she has included multiple therapeutic diagnostic modalities on-site so patients can leave her office with a treatment plan and feeling better. Access to her clinic is easy with ground-level parking and online appointment scheduling. Patients are expected to leave the visit feeling better, with medications and procedures available in her clinic.
BreatheMD is a cash-pay facility, and Dr Bowden has opted out of all insurance plans but keeps her prices fair and transparent. All prices for clinic appointments and surgeries are listed on our website. Patients are given an itemized receipt to submit to their insurance companies for reimbursement. If you are an employer who self-insures, please talk to us – we love working directly with businesses to help them provide affordable high-quality care to their patients.
Dr. Bowden is also interested in research and is currently working to publish her findings from recent COVID-19 testing. For a list of Dr. Bowden's publications, please click here.
She is on the advisory team of FLCCC, is co-leader of the Houston chapter of the Free Market Medical Association, and serves on the advisory board at the Validation Institute.