Podcast: Play in new window | Download
Subscribe: Apple Podcasts | Google Podcasts | Spotify | Stitcher | Email | TuneIn | RSS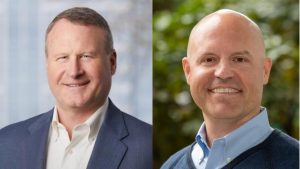 In this episode Ron chats with Scott Haas & Erik Davis, Senior Vice Presidents at USI on their Healthcare Operational Risk Consulting Team. USI has served over 500,000 clients meeting their property & casualty, employee benefit, personal risk and retirement needs nationwide. USI works to understand the specific needs of their clients, to provide an unparalleled local service experience, and to innovate with cutting edge solutions so their clients can continue to invest and grow. Here, they do a deep dive into what makes their approach stand out from the competition to make them a top 10 national benefits firm. They also discuss how they work to design optimal plans, negotiate advantageous pricing, deliver preferred services and keep clients aware of market changes.
Erik has over 30 years of experience in the insurance and risk management industry.  Erik works to create an environment that supports the strategic managed care risk goals of an organization, while maintaining focus on compliance and financial accountability.
Erik is instrumental in vendor negotiations, data benchmarking, population
health strategies, claims analysis, recommendations in plan design and communication strategies. In this capacity, Erik has been involved with development of rates, payment structures and recommendations of changes in processes, policies and procedures. He has a broad understanding of contract analysis, evaluating risk, auditing for correct payment and structuring of excess loss and pharmacy programs.
Erik's experience extends from overall employee benefits consulting to workers' compensation, commercial risk, and Medicaid and Medicare Managed Care Organizations.
Erik earned his B.S. in economics from Oregon State University. He holds Accredited Advisor in Insurance (AAI), Certified Insurance Councilor (CIC), and Certified Risk Manager (CRM) designations.
Scott has over 35 years of employee benefits experience. His background includes the development and validation of care management programs; prescription benefit management (PBM) solutions; provider network evaluation, valuation, and negotiation; and underwriting. Scott started and operationalized a third-party-administrator (TPA) and a pharmacy benefit manager (PBM) platform from scratch. He has worked in the arena of alternative funding/risk management for most of his career.  Scott's current role within USI is focused on consulting with entities at risk for Medicaid, Medicare and Commercial health insurance.
Scott has held officer-level positions within Blues plans and TPAs as Vice President of Sales and Marketing; Vice President of Underwriting; and President. Scott has also served as a trustee for both union and non-union health and welfare and pension plans.
Scott frequently shares his consulting expertise speaking at national events hosted by organizations such as the International Foundation of Employee Benefits; Health and Welfare Plan Management Conference; Western Pension and Benefits Council; and the Self-Insurance Institute of America. Scott has authored and co-authored articles on various topics over his career.
Scott earned his B.S. in Business Administration and B.S. in Economics from the University of Nebraska at Kearney. Scott also holds Chartered Life Underwriter (CLU) and Registered Health Underwriter (RHU) designations.