Podcast: Play in new window | Download
Subscribe: Apple Podcasts | Google Podcasts | Spotify | Stitcher | Email | TuneIn | RSS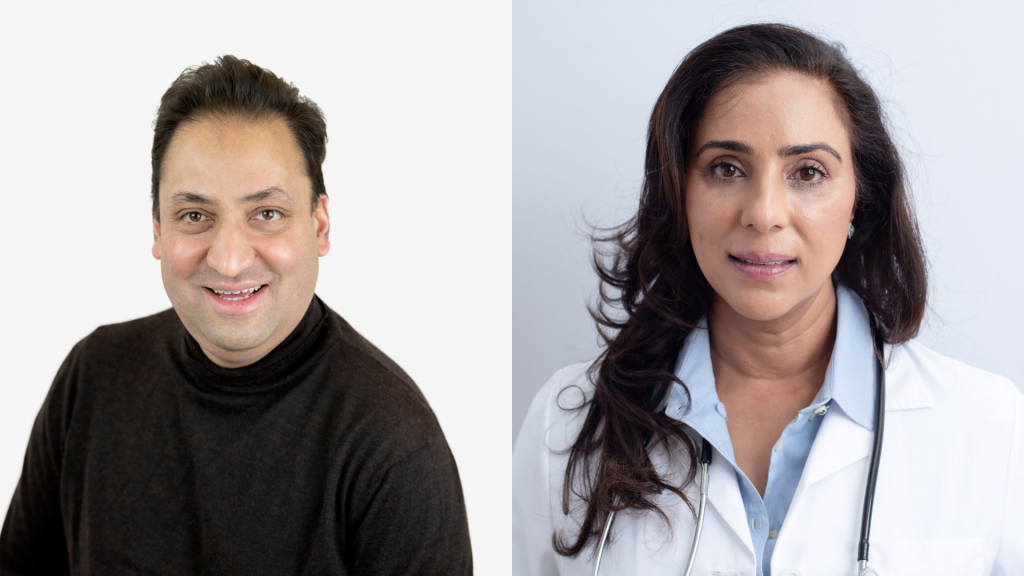 In this episode, Ron is joined by power couple Dr. Renee Dua & Nick Desai, Co-Founders of Renee, a recently launched digital health assistant and generic medication delivery AI generated platform. With Dr. Dua's 16 years of experience as a practicing nephrologist combined with Nick being an accomplished and visionary veteran of 5 successful VC rounded startups, they are reminding people to take their medications, scheduling & setting up transportation to and from appointments, delivering drugs, and more. Here, they answer the questions of who their target consumers are, who is already signing up, how inexpensive the drugs they are delivering are, and more.
Renee Dua is a visionary physician-entrepreneur who created Renee based on her 16 years of experience as a practicing nephrologist, her service as Chief of Medicine at two of LA's largest hospitals and her 7 years as Chief Medical Officer of Heal, during which time she oversaw the successful delivery of over 300,000 doctor house calls.  She went from literally going home-to-home delivering house calls to patients in need to building a team of 200+ medical teams who saw over 2,000 patients per week across the United States.  She won the CES Innovation Award and was instrumental in working with CMS to expand house calls to all seniors and in driving strategy for Heal's clinical and patient facing products.  Driven by the belief that healthcare is a human right, Dr. Dua has always gone beyond the call of duty to give the greatest care to the neediest patients and has dedicated her career to the underserved.
She created Renee in June 2021 and raised $7.8MM in seed funding to be the indispensable personal health assistant that helps the aging follow their doctor's care plan towards living happier, healthier lives.
Renee completed her BS in Biochemistry at UC San Diego, her MD at Rosalind Franklin University, her residency in internal medicine at UCLA, and her fellowship in nephrology at USC.   Renee is an outspoken role model for women in STEM, frequently speaking at top universities, conferences and media outlets.
Finally, she is the mother of three young children, who are her pride and joy.  In her rare free time, she cooks and takes long drives in her EV with her best friend, co-founder and husband, Nick Desai.
Nick Desai is an accomplished and visionary veteran of 5 successful venture-funded startups.  Founded in August 2021, Renee is a transformative digital health assistant specifically designed for older and underserved Americans to coordinate, communicate and connect all aspects of their healthcare.  Launched Oct. 2022, Renee gives people the meds they need and they help they deserve in one incredibly easy, unified experience.  For Renee, Nick has raised $8.2MM in venture funding for Renee from Quiet Capital, Tau Ventures, Mucker Capital, Fika Ventures, Citylight Ventures and the AARP.
Nick is the Founder and former CEO of Heal – the renowned market-leader in home-centric primary care and doctor house calls.  From inception in October 2014 thru Feb. 2021, Nick led Heal's torrid growth as CEO – expanding Heal to 10 states, serving over 300,000 patients, driving nearly $100MM in healthcare cost savings and raising over US $200 million in investment capital from top investors including Humana, Fidelity, Breyer Capital, Slow Ventures, Glenview Capital, IRA Capital and many others.  Nick also led Heal's business development, winning contracts with over 50 major employers and insurance partners including Google, Hyundai, Samsung, Anthem, Aetna, United Healthcare and others.  Heal has been recognized as the Consumer Electronics Show Small Business of the Year, #114 on Deloitte's Fast 500 list, #13 on CNBC's Disruptor 50 List, A Fierce 15 Company, Rock Health Award winner and numerous others.
Prior to Heal, Nick has founded and built successful venture-funded startups in online weight loss coaching, social media and the web's first self-updating address book.  Nick speaks passionately about healthcare and entrepreneurship including a podcast on Slice of Healthcare and previously writing for the Huffington Post.  Nick is an inventor with multiple US patents.
Nick earned his BS in Electrical and Computer Engineering from UC Irvine, where he was awarded the 2018 Lauds and Laurels Distinguished Alumni Award, and an MS in Electrical Engineering from UCLA.  Nick spends most of his free time playing with his three rambunctious young kids, eating pizza or taking walks with his best friend and wife, Dr. Renee Dua.   Nick is a first-generation immigrant in the US – and was born in Mumbai, India.