Podcast: Play in new window | Download
Subscribe: Apple Podcasts | Google Podcasts | Spotify | Stitcher | Email | TuneIn | RSS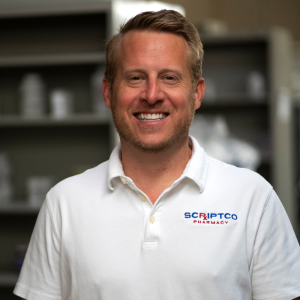 In this episode, Ron chats with Zach Zeller, Co-Founder and President of ScriptCo Pharmacy. Here, Zach does a deep dive into the value proposition his company offers to both patients and employers. He shares how people can go on the ScriptCo website and calculate their potential cost savings by utilizing their program. He also discusses some of the shady tactics of big pharma and his long-term goals for the company.
Zach Zeller grew up in Flower Mound, Texas, and attended the University of Texas on a Track and Field scholarship. Zach's work ethic lead to him to become a school record holder, All American, and multiple time Big 12 Champion.
After graduating from UT, Zach took a role with DePuy Orthopedics as Trauma Representative, where he earned the second-highest percentage increase growth in the United States in 2006. After being in the operating room just shy of 10 years years and offering guidance to surgical teams and surgeons in over 5,500 surgical procedures, Zach chose to move out of the surgical space and into the pharmacy market.
In 2017 Zach co-founded Texas-based ValueScript Pharmacy.
As a pharmacy owner he saw firsthand the intentionally designed lack of transparency in the marketplace created by pharmacy benefit managers that surrounds access and cost of medications when using health insurance. Zach and the ValueScript team were trying to figure out a better way to provide access and value to consumers.
After exhaustive research we felt that the best way to reach our goal of solving the cost and access problems that revolve around prescription medications could be solved by starting the first and only membership-based wholesale pharmacy in America, ScriptCo.