Podcast: Play in new window | Download
Subscribe: Apple Podcasts | Google Podcasts | Spotify | Stitcher | Email | TuneIn | RSS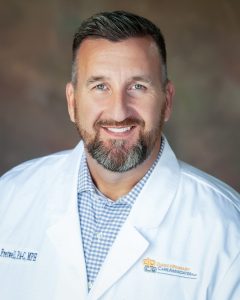 In this episode, Ron chats with Dr. Brian Fretwell, President and CEO of Direct Primary Care Associates and myDPCrx – a DPC provider driven pharmacy program that sells over 1,000 generic prescriptions for pennies on the dollar. Here, he answers the questions of what led him to start myDPCrx, where his 5 clinics are located, how this is changing the face of pharmacy, and more.
Mr. Fretwell  calls Cleveland home. He is a former field and flight Paramedic. He attended University of Tennessee at Chattanooga. His medical education was completed at Nova Southeastern University with a dual degree in PA studies and Masters in Public Health. He has over 27 years experience in Emergency, Family, and Occupational Medicine. As CEO of Direct Primary Care Associates, Mr. Fretwell has created and continues to develop a team of like-minded, forward thinking individuals who share his unique vision for improving access to quality affordable healthcare through innovative solutions for individuals and businesses throughout the region.
Brian enjoys spending quality time with his children. He also spends most fall weekends watching Tennessee football. An avid conservationist and outdoorsman he also spends much time hunting, fishing, surfing, and boating.